NEWTRON inside
Employee Story: Norman Schott – From academia to practice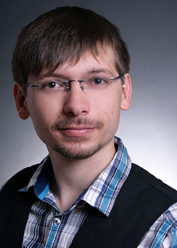 Since June 2017, mathematician Norman Schott has been working as a business consultant for Newtron and SupplyOn, thereby creating an internal "interface" between Dresden and Munich.
Razor-sharp analyses, abstract thinking – as a mathematician, Norman Schott brings a lot to his job as a business consultant. "It is undoubtedly helpful that I can quickly get my head around complex systems," says Schott. Customers' requirements are complex, and the solutions provided by Newtron and its shareholder SupplyOn AG, for which he is both active, are tailored to meet them. Newtron's procurement solution, which has a strong focus on non-production material and catalog goods, complements the SupplyOn portfolio, which focuses on production material. "This is a diverse and multifaceted spectrum," says the new business consultant. Among other things, it connects suppliers to our trading platform and gives them access to tens of thousands of companies.
Norman Schott is based at Newtron in Dresden – a city well-known to him, as he studied and worked at the TU Dresden. While working at the university was a rather "solitary
activity", as he himself says, he now enjoys the constant exchange with his colleagues and the pleasant working atmosphere. "A great team," says Norman Schott.
You would like to get to get to know him, the team and our products as an applicant, candidate or customer? We are looking forward to hearing from you! Contact: bewerbung@newtron.de.